Midori Gift Wrap
This is Midori's exclusive line of Handmade Gift Wrap. Its lovely texture, gleaming metallic accents, and rich colors are an excellent backdrop for their fine ribbon. This paper is designed exclusively by Midori, and silkscreened by hand. This earth-friendly gift wrap is a natural for crafters, gift-givers, and stationers alike. This Gift Wrap is 100% recycled cotton fiber and available in 49 patterns & 89 colors.
These are packs of 10 21"x29" sheets - $4.32 each sheet
Alphabet - IP92610

Ancient Airship - IP92901

Ancient Airship - IP92900

Atomic Flowers - IP92110

Bees - IP72134

Bees - IP72131

Bellflowers - IP88400


Big Bang Dots - IP92891

Big Bang Dots - IP92890

Bird Cage - IP71332

Bird Cage - IP71331

Buggy - IP71395


Chandelier - IP81300

Chandelier - IP81100

Chandelier - IP81200

Cherry Blossom - IP71600

Cherry Blossom - IP71700

Cherry Blossom - IP71400

Cherry Blossom - IP71800

Cloisonne - IP89200

Cloisonne - IP89100

Cloisonne - IP89300

Clover Flower - IP91540

Clover Flower - IP91520

Clover Flower - IP91530

Clover Flower - IP91510

Crown - IP72124

Crown - IP72121

Dots - IP71386

Ducklings - IP92870

Eiffel Tower - IP86400

Eiffel Tower - IP86500

Etoile - IP92310

Etoile - IP92320

Etoile - IP92330

Fluer De Lis - IP84300

Fleur De Lis - IP84400

Fleur De Lis - IP84500

Flourish - IP78100

Flourish - IP78200

Flourish - IP78400

Gardening - IP92840

Goldfish - IP71322

Goldfish - IP71321

Guitars - IP91620

Guitars - IP91610

Harlequin - IP72151

Harlequin - IP72152

Maple - IP82200

Maple - IP82100

Ladybug Lace - IP91410

Ladybug Lace - IP91420

Ladybug Lace - IP91440

Ladybug Lace - IP91430

Nami - IP92860

Nami - IP92861

Nami - IP92862

Nami - IP92863

Owl - IP92810

Paisley - IP92820

Paisley - IP92821

Paisley - IP92822

Peacock - IP87200

Peacock - IP87300

Poinsetta - IP92710

Pineapple - IP72144

Pineapple - IP72148

Pineapple - IP72145

Pineapple - IP72141

Pineapple - IP72146

Pineapple - IP72147

Pineapple - IP72142

Pineapple - IP72143

Reindeer - IP92510

Scooters - IP92830

Skull Wings - IP92410

Skull Wings - IP92420

Swallow - IP91110

Swallow - IP91130

Swallow - IP91120

Twig - IP79300

Twig - IP79100

Twig - IP79200

Twelve Days - IP72099

Twelve Days - IP72102

Weekend Parade - IP92880

Woodlands - IP92220

Woodlands - IP92210

Yarn - IP92850
Our handmade papers are formed one at a time with a mould and deckle. They are made with 100% post industrial waste and are 100% tree free, acid free paper. Embedded in this stock is our unique North American Wildflower seed blend. The seeds will need four hours a day of direct sunlight with constant watering until established. The plants can grow to as tall as three feet. The seeds include Spurred Snapdragon, Tussock Bellflower, Creeping Thyme, Lilac Godetia, Foxglove, Catchfly, Monkeyflower, English Daisy, Red Corn Poppy and Showy Evening Primrose. This blend is specifically designed to allow us to print directly onto the handmade seed paper and for safe propagation across North America.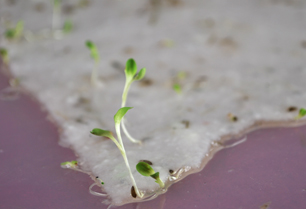 Germination may begin as quickly as one week or may take up to six weeks depending on your regional growing zone and planting depth.  We recommend just 1/4 inch of soil coverage.


Copyright 2017 All Rights Reserved - Of The Earth 7706 Aurora Ave. N, Seattle, Washington 98103
Local/International 206.462.7022, Fax 206.462.7024 Toll Free US 1.888.294.1526
Paper
Invitations
Kits
Ribbon
Favors
Supplies