Supplies to Make Your Own Invitations and Cards
$10 each, full sheets of handmade paper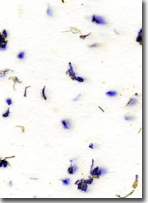 Buy full sheets and tear them to size on your own. Don't worry, this paper is cotton and tears nicely with the help of a bone folder.
25 for $9.85, Pre Printed Response Cards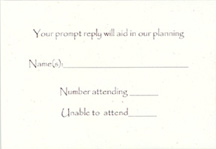 $0.22 each, Blank Cut Vellum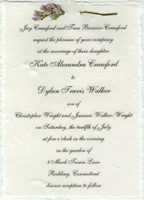 Buy vellum and print on it at home. Shown printed for illustration purposes only
$0.18 each, Invitations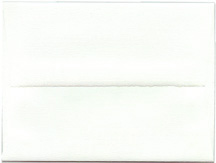 These envelopes come in a variety of sizes and four different styles
$6.00 each, Bone Folder

This Bone folder helps to give our paper a clean crease. We have many other tools to aid in your work.
Lotka DIY Kits
We also carry pre assembled invitation kits made with vegetable dyed lotka paper in a variety of sizes.

Copyright 2021 All Rights Reserved - Of The Earth 7706 Aurora Ave. N, Seattle, Washington 98103
Local/International 206.462.7022, Fax 206.462.7024 Toll Free US 1.888.294.1526
Paper
Invitations
Kits
Ribbon
Favors
Supplies