Of The Earth is excited to be at the Seattle Wedding Show on January 12th and 13th, 2013.   The event runs from 10:00am-5:30pm on Saturday and 10:30am-5:00pm on Sunday.
Of The Earth is a paper and ribbon company that has been in business since 1995.  Our business started with handmade paper (embedded with flowers, herbs and flower seeds) and has expanded over the years to include many more items.  Some of our more popular items are hand dyed silk ribbons(dyed in our Seattle studio)  plantable favor boxes, pressed flower stickers, embellishments and note card sets.  We offer fully assembled invitations, as we are happy to do all of the work, but we also offer more budget friendly options that allow the client to do as much or as little as they'd like.  Visit our website at www.custompaper.com to see our many products and services.
We are currently busy in our studio prepping for the upcoming bridal show.  We will have a plethora of invitation samples, DIY kits, silk ribbons, guest books, eco-twist, favor ideas and of course lots of handmade papers for you to get a close look at.  Kevin and Lori, the owners of Of The Earth, will be in the booth to answer questions and discuss wedding invitation options.
Stop by and take a look.  We'd love to help you plan for your big day.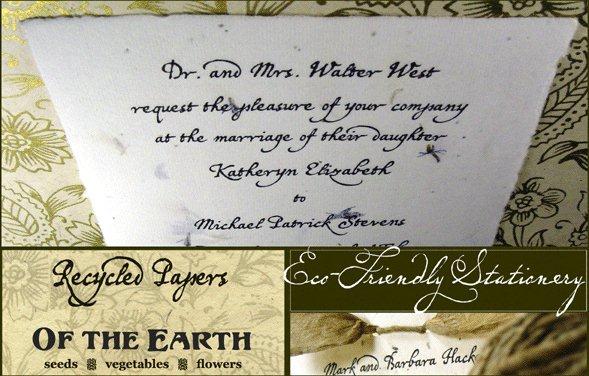 The Seattle Wedding Show is the largest wedding show on the west coast.  This annual event is at the Washington State Convention & Trade Center located at 800 Convention Place, 4th Floor, Seattle, WA 98101.  Tickets are $17.00 and can be purchased at the door.  For more details you can go to www.weddingshow.com.