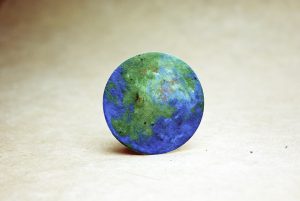 Soon  Earth Day will be here again. I'm excited to share a fun product that you could hand out to friends in celebration of this important day. Wee seeded paper globes that will sprout wildflowers if tended well and kept moist.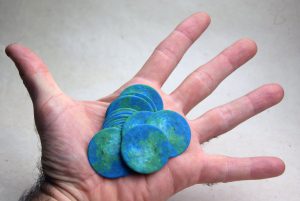 He's got the whole world in his hands.
We have two inch circles and tinier 1.5″ circles. Above is an image of the owner's hand holding the tiny kind. Keep in mind, he is tall and they are massive!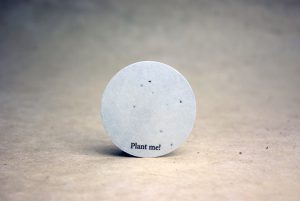 We can print on the back side of these circles so if you have a special message you want to share with friends and family, we can do that. The printing should not negatively affect the ability of the seeds to germinate. The most important thing is to water it every day during the first month or so.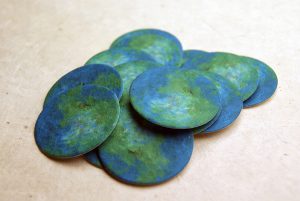 However you choose to celebrate Earth Day 2019, please keep faith that our planet is worth fighting for. Scientists have agreed that humans can't operate on auto-pilot like most of our time here.  Consequences of our actions are becoming evident, both for good and bad. So let's plant some seeds, reduce our use of electricity and water and cause good results to blossom next season in the form of wildflowers. Of The Earth believes Earth Day is important and we hope you do too.