For 25 years we have been serving the wedding industry.  2020 was a year like no other in our lifetime.  Our biggest lesson was not about how to pivot when events are cancelled.  Unlike many of our industry partners, we thrived last year.  Our greatest physical challenge was filling a record number of orders of our handmade goods, while our staff all stayed safe at home.  What we learned last year was not about our work, or just how many consecutive hours and days we can work without a break (a lot more than you would think). What we learned was that we were not doing enough for our community.
               While we marched for George Floyd, we kept cranking out our handmade goods, made paper late into the evenings, raised two high school students in a pandemic, built a backyard shelter for safe Covid gatherings, and knew we had to contribute more.
                So we read So You Want To Talk About Race? and other resources to understand what, as privileged white middle class folks, we have not had to pay any attention to: more than simply nodding in agreement with and shaking our heads at the difficulties faced by people of color.  It was very easy to be grateful that those struggles were not our struggles and know that we were not contributing to racism.  Life is tough enough without adding someone else's worries to our day.  We never hurt anyone, so we are not guilty, right? Wrong.
               The murder of George Floyd at the hands of our police was impossible to turn away from.  It demanded action.  We will never be able to do enough.  What we will do, continues to evolve.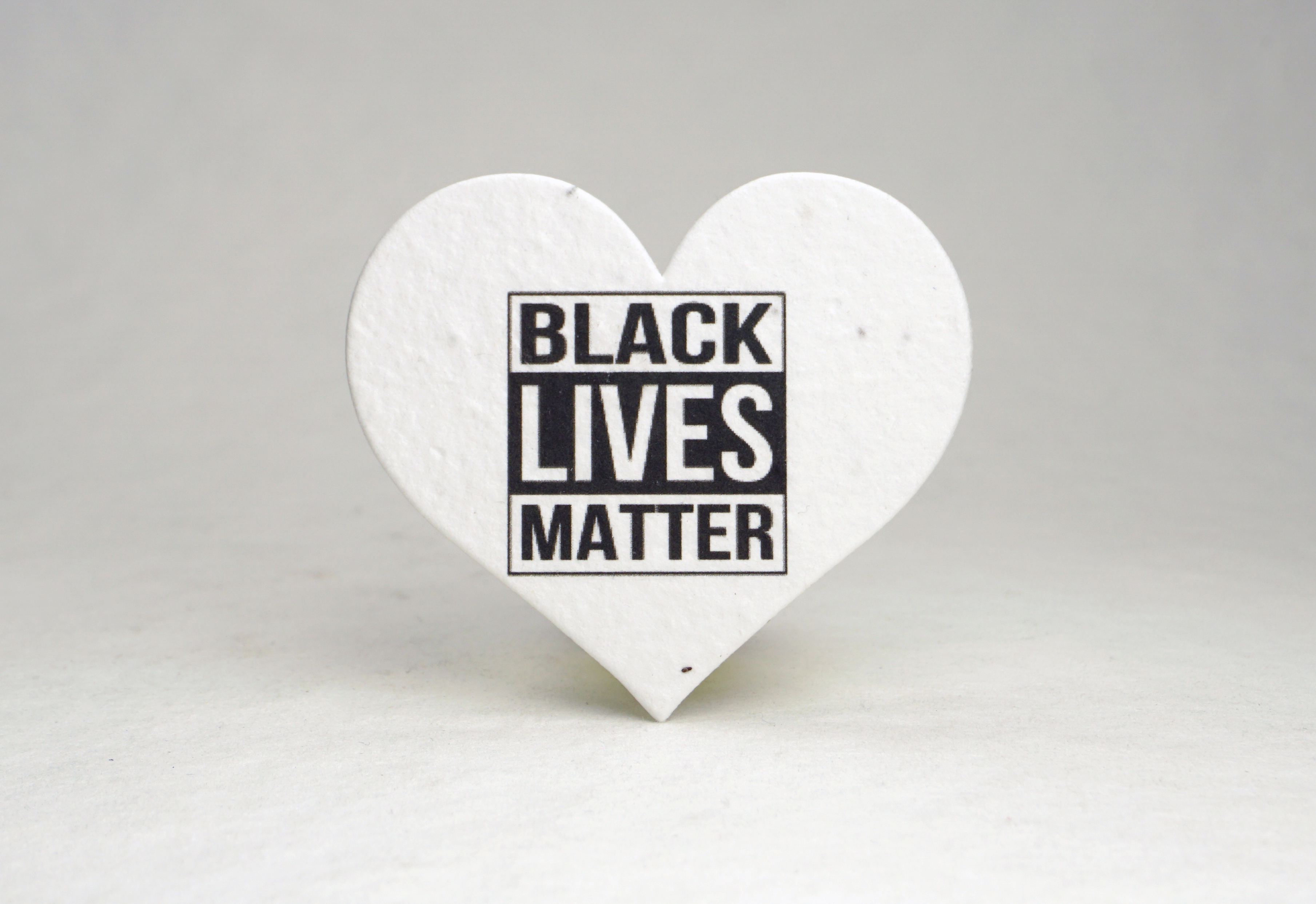 Since last summer we have included a token of support for the Black Lives Matter movement with every order that we ship out.  Each invoice, receipt and packing slip contains a silver dollar sized seed paper heart with a printed message that shows our support for BLM. This small message, and the signs in the windows of our home and our factory store have helped us to grow, and reinforced our commitment to helping.
               While we will now get back to posting and promoting our earth friendly products, we will continue to search for ways to help the black community; to have difficult conversations with people who call us to let us know that "All Lives Matter"; to demand equality for all.
                We encourage you to join us.  Our BLM hearts are available for sale here for $14.  $12 from the sale of each 50 pack is directly donated to the NAACP.  You can make your own donation here: https://naacp.org/.