Invitation Ordering Process
This page is here to make ordering your custom invitations as easy as possible. It will help you every step of the way through our large site and get you exactly what you need for your wedding or special event.
If you need samples of any of our products you can request them on our samples page.
Step 1: Choose the size of your invitation

We have many sizes to choose from. Some are very traditional sizes like our 4"x6" or 5"x7", but some are more unique sizes like our 6"x6" or 4"x9". If you take a look at our

invitation page

you will see examples of all of the sizes we have to offer.

Choosing your size first tells you how much paper you are going to need to create your invitations. If it is a small invitation (for example a 4"x6") you will need less paper than if you are doing a large one (for example a 6"x12").

4"x6"

4.5"x6"

5"x7"

6"x6"

6"x9"

6"x12"

7"x10"

7"x12"

4"x9"
Step 2: Selecting the paper for your invitations

We have a large variety of paper options. When choosing, consider which colors complement the themes of your event, if you would like seeds embedded in your paper, and how many sheets you will need to complete your order.

Lotka paper is made from the bark of the Daphne bush, which regenerates naturally and provides a renewable resource. All lotka envelopes and paper are 50% recycled. This paper is acid free and your purchase will benefit the economic enterprise of rural craftspeople in Nepal. It will bloom if planted.

Vegetable Dyed Lotka Paper comes in 20"x30 sheets
Heavy Weight - $5.20 per sheet

Aspen

Hemlock

Sequoia

Spruce

Natural Seeded Lotka
Heavy Weight - $4.50

Examples of invitations made with our lotka paper

Spruce

Sequoia

Natural

Hemlock

Cotton Handmade Paper

Our cotton paper is a very popular choice. These papers are a clean white with different ingredients in each one. It is made of 100% post industrial waste and no trees were cut down in the process! Different ingredients that you may find embedded in this paper are carrot, bachelor button, marigold, safflower, fern, beet, and stock. Most of these papers contain wild flower seeds in them, so your guests can grow flowers in memory of your wedding or event. Take a look at all of our overstock sections, and if you don't find what you want, you can customize your own paper. Overstock paper comes in limited quantities, so make sure there are enough sheets on hand to finish your project.

Our cotton paper comes in 18"x24" sheets
$10.00

Cotton Paper Examples

Examples of Invitations made with cotton handmade paper
Step 3: Choose if you will print on the paper or on an overlay

The most economical way to comlete an invitation is to print directly on the paper. You must make sure that black ink will show up on which ever paper you have chosen. If it will not you may want to look at doing an overlay. Overlays give a stunning look of individuality to your invitation. Take a look below at a few different types of overlays that we have to offer.

Invitation with text printed directly on the paper

This example uses a printed vellum overlay

To order custom printed vellum or lotka overlays

click here

.

Example of a light weight lotka overlay

Example of handmade paper laid over the top of lotka paper

To order invitations like the example to the left

click here

to order.
Step 4a: If you are using an overlay, choose how to attach it to the paper.
Skip this step if you are not using an overlay.

There are many ways to attach the overlay to the paper. You can use glue stick and glue it on. You may also consider using and attachment. We carry a variety, including leather fern, misty fern, Eco-twist, ribbon, and bamboo. They all are earth friendly choices and add a nice touch to your invitations.

When you put the vellum or seeded overlay in the cart be sure to enter the text that you would like printed, if you are having us print your invitations.

Invitation Using the eco-twist ribbon

Invitation using ribbon attachment

Step 4b: If you are printing directly on paper, choose your style
Skip this step if you are printing on an overlay

When you print directly on the paper you can leave it simple and not add anything to it. You can also decorate with pressed flowers. Click on the ones with pressed flowers to see the ordering page, where you can choose which pressed flower you want to use.

Red Verbena Flower Invitation

Plain printed invitation

Purple Larkspur with Stem Invitation

Mini Daisy Invitation
Step 5: Choose Your Font
You may pick from our vast database of elegant and fun fonts, or if you have your own that you would like to use you can send us the .ttf file, which is the font file in your c:\windows\fonts folder. This will only work if you have a windows based PC. Sorry mac users.
By now you should know exactly what you want your invitation to look like. You can now either look for an example with all of those requirements included and fill out the pre made form, or you can add everything individually into the cart. You could add however many sheets of paper you need to do the job (on the paper page it shows you how many invitations you get per sheet for each size), the attachments, and the overlay. You can also add labor into your cart if you want us to do things like tear the invitation to size, punch holes for attachments, prepare fern, print, or do anything else that you would like us to do for you.

You can save a lot of money by taking the time and effort of doing these things yourself and ordering only the materials. If you are doing this you may need some supplies that we offer on our invitation supplies page.
We have things like bone folders, metal rulers, and hole punches that are very useful in the invitation
assembly process.
Step 6: Additional Insert cards

We offer additonal invitation parts such as reply cards, reply postcards, reception cards, save the date cards, and direction and/or map cards. These are not all required for a wedding but may be useful for yours.

These cards can be printed on recycled card stock, cotton handmade paper, or seeded lotka paper. Some people like to use the recycled stock in order to save money, and it will go well with any type of paper that you chose for your invitations. Others like to match the paper that they used for invitations. Below are a few examples of each type of card. Click the images to view the ordering page. We also offer pre-printed reply and save the date cards.

Reply Card

Reply Card Printed on Recycled Cardstock

Recycled Reply Envelope

Lotka Seeded Reply Card

Lotka Seeded A5 Envelope

Handmade Reply Card

Recycled Reply Envelope

Reply Postcard

Postcard Reply Cards only can be printed on recycled stock; the other stocks are too flimsy to mail by themself.

Custom Recycled Stock Reply Postcard

Reception Cards

Also available in Cotton Handmade and Lotka paper

Directions and Map Cards

Directions Card Made of Lotka Paper
Step 7: Choose Your Envelope

You need to make sure the envelope that you are ordering is the correct size for all of the pieces that you are going to be mailing. We offer recycled, felt, and lotka envelopes. Some of the lotka envelopes are seeded and your guests will be able to plant them and enjoy the wildflowers that will grow.

On the ordering page, you have the option of printing custom text on your envelopes.

Sizes
4x6 Invitation -------- A6 Envelopes
4.5x6 Invitation ------ A6 Envelopes
4x9 Invitation --------- #10 Envelopes
5x7 Invitation --------- A7 Envelopes
6x6 Invitation --------- 6.5" Square envelope
6x9 Bifold Invitation ---- A6(The invitation is 4x6 when folded)
6x12 Bifold Invitation -- A6(The invitation is 4x6 when folded)
7x10 Bifold Invitation -- A7
7x12 Bifold ----------- A7

Felt Envelopes

Custom Printing
Step 8: Checking out process
Now that you have chosen every element of your wedding invitations you can add the products to your shopping cart by simply by clicking on the add to cart button below each item. When you view your cart, make sure all the descriptions match with the actual items that you intended to order. If you want to take something out of your cart, click and check the box next to the item that you don't want and then click update cart. You should notice that item has been taken out of your cart. To change quantities, type the quantity you need in the quantity box, and then click update cart.

**Printed items will have a minimum quantity, usually set at a $30 minium price**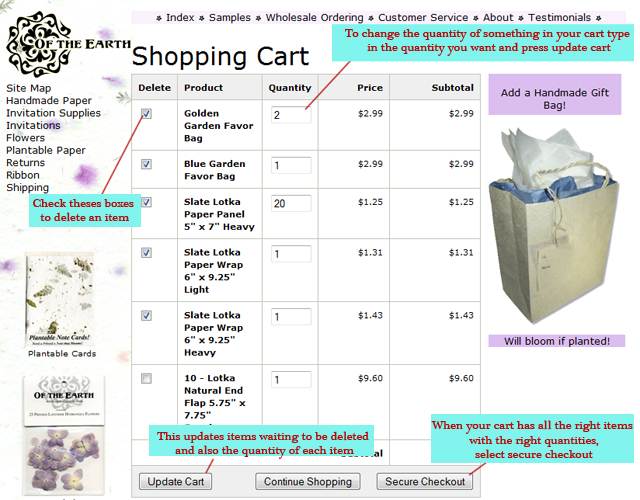 If you are in need of any other assistance feel free to call and one of our employees would love to help you through the ordering process. Some orders are more difficult and more complex than others to order online.
You can give us a call at Local & International: 206.462.7022
US Toll Free: 1.888.294.1526 (8am-5pm PT)

Our handmade papers are formed one at a time with a mould and deckle. They are made with 100% post industrial waste and are 100% tree free, acid free paper. Embedded in this stock is our unique North American Wildflower seed blend. The seeds will need four hours a day of direct sunlight with constant watering until established. The plants can grow to as tall as three feet. The seeds include Spurred Snapdragon,Tussock Bellflower, Creeping Thyme, Lilac Godetia, Foxglove, Catchfly, Monkeyflower, English Daisy, Red Corn Poppy and Showy Evening Primrose. This blend is specifically designed to allow us to print directly onto the handmade seed paper and for safe propagation across North America.
This card has the text printed on the textured side of our stock, on the reverse is a smooth surface that feels luxurious under your fingertips.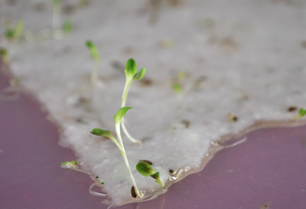 Germination may begin as quickly as one week or may take up to six weeks depending on your regional growing zone and planting depth.  We recommend just 1/4 inch of soil coverage.


Copyright 2023 All Rights Reserved - Of The Earth 7706 Aurora Ave. N, Seattle, Washington 98103
Local/International 206.462.7022, Fax 206.462.7024 Toll Free US 1.888.294.1526
Paper
Invitations
Kits
Ribbon
Favors
Supplies