We now carry the ideal invitation kit for the handmade DIY enthusiast! Our plantable handmade seed paper invitation kit creates 25 panel style 5" x 7" invites.

Each Invitation Kit contains:                                      – 25 5×7 inch cut edge panels of our handmade paper(containing flower seeds so they can be planted)                                       – 25 cut to size (4.75″ x 6.75″) printer safe lotka seed paper pieces
– 25 recycled paper machine made invitation envelopes
– 6 yards eco-twist ribbon
– Punching template
Designed for home printing on a laser or inkjet printer, these invites are then punched, and assembled by you. Templates and downloadable instructions can be found here.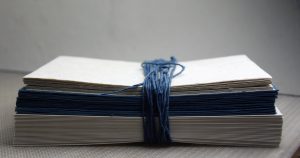 All invitation components will break down naturally in soil, but only the invitation panel and overlay contain flower seeds.
Our unique North American Wildflower seed blend tolerates partial shade; needs 4 hours a day of direct sunlight and grows to about 3′. Seeds include these perennials and annuals: Spurred Snapdragon,Tussock Bellflower, Creeping Thyme, Lilac Godetia, Foxglove, Catchfly, Monkeyflower, English Daisy, Red Corn Poppy and Showy Evening Primrose. This blend is specifically designed for safe propagation in many growing zones.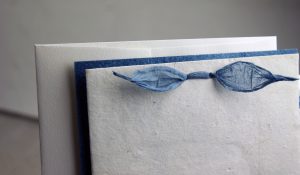 Germination may begin as soon as one week, or may take up to six weeks depending on your regional growing zone and planting depth. We recommend just 1/4″ soil coverage.
We are happy to swap paper and eco-twist colors. These DIY kits are available for $26.50 for a set of 25.